Time Out of Place is an autobiographical visual poem told through experimental photographs. Exploring the narrative of emotionally belonging to two far distance countries, Time Out of Place follows a ghostly figure moving through a series of English and Australian landscapes. Printed on semi-transparent tissue paper the book is a collection of loose-leaf pages. Once opened the reader can move the pages around, changing the order and so changing the figures journey across these opposing countries. The transparency of the paper allows the images to interact through each other, changing the photographs and metaphorically eliminating the space between the two countries. Haunting and delicate Time Out of Place evokes longing, joy, wonder and a sense of loss.
Time Out of Place- Limited first edition of 25, Copyright 2014 - Sold Out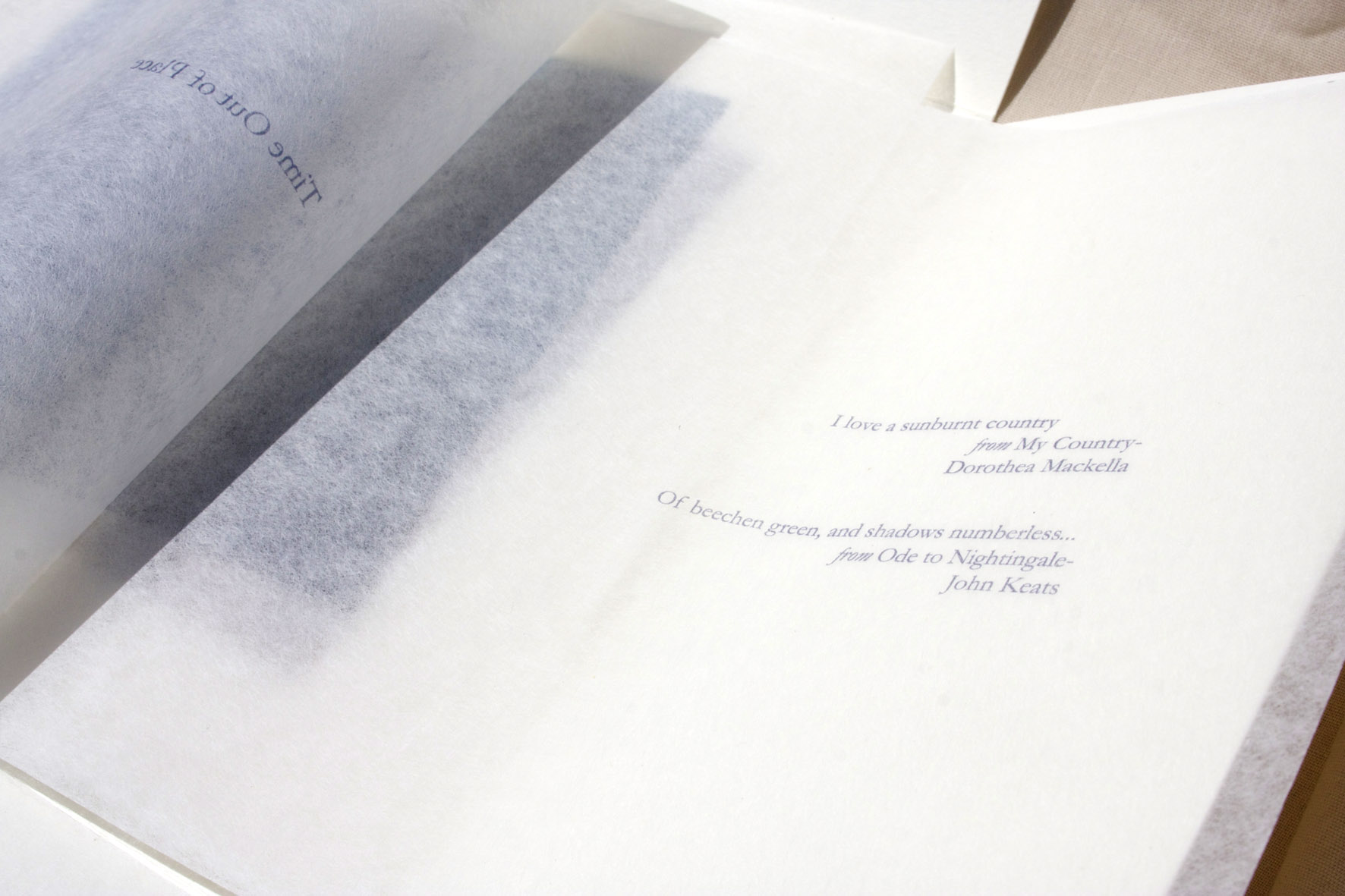 Rosie Sherwood is an artist, scholar and independent publisher. At the heart of Sherwood's interdisciplinary practice is a fascination with time and a desire to tell stories. In 2012 Rosie Sherwood founded As Yet Untitled and Elbow Room, successfully crowd funding to expand the publishing company in 2015. Sherwood is the Creative Director of turn the page Artists Book Fair and Symposium. Sherwood graduated from Camberwell College of Art with an MA in Book Arts in 2013. She has delivered conference papers and University lectures across the country. Sherwood has taken part in both group and solo exhibitions as well as artist book and small publishers fairs. Sherwood's works can be found in special collections including The Poetry Library, Tate Library and Archive and the National Libraries of both Victoria and Queensland (Australia). In 2018 Sherwood began a yearlong aritsts' residency with the Marine Institute at Plymouth University. Her sculpture Akin was selected for the National Sculpture Prize at Broomhhill Sculpture Gardens.