"Oh, what when dreams grow old...?"
The Books
Lost in a Dream is a photobook documenting the tightly woven community of a music scene. In Lost in a Dream London-based singer-songwriter Tom Hyatt turns his hand to photography, presenting a book that captures both the strength and fragility of a community. Without support, from within and without, music scenes become fleeting moments in time. Combining photography and text Lost in a Dream weaves together portraits with Hyatt's own recollections, providing insight into the intricate network of friends and collaborators that help keep a scene afloat.
Lost in a Dream comes in two forms, a beautifully produced paperback and the limited edition hardback. The hardback book includes loose leaf pages hand printed by Tom in the darkroom.
You can buy copies of the paperback HERE (plus receive a free download of the live album with every purchase)
You can buy copies of the limited edition hardback HERE (plus receive a free download of the live album with every purchase)
The Event
Lost in a Dream is more than a book, it is a documentation of a community, and a celebration of the London folk scene. While working on the project it quickly became obvious that we would need to expand the book beyond its pages. For a week in 2018 As Yet Untitled and Tom Hyatt took over the unofficial home of the London folk scene, The Harrison in Kings Cross, exhibiting Toms photographs and putting on a week long music festival. Every night a different selection of the musicians featured in the book took to The Harrison stage, and every night Tom photographs became harder and harder to see. Printed in the darkroom the images had not been fixed and so remained sensitive to light. Fading and distorting over the week the photographs became symbolic of the fleeting moment in time Lost in a Dream explores.
To celebrate the incredible work and spirit of mutual support and collaboration that goes into the music scene, and as part of the lasting contribution Lost in a Dream has made, a live album was recorded and is now available to listen to, buy and download HERE.
You can find out more about the project, and Toms reflections on making it in this wonderful interview for For Folk's Sake HERE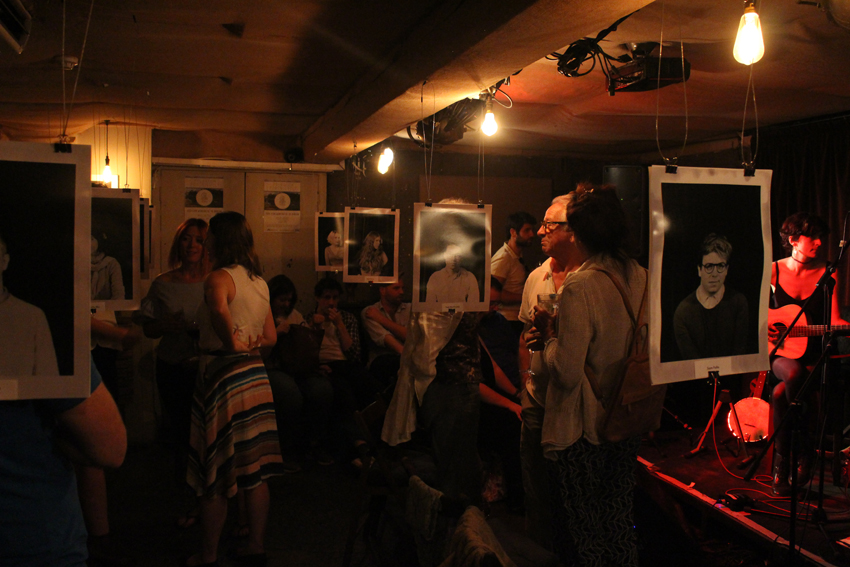 Tom Hyatt is a singer/songwriter and artist living in London. With an academic background in physics, his creative output often spans multiple disciplines and media.